This morning Avi and I hit the fly tying clinic put on by the West Denver TU. I have a bunch of friends who tied at the event, including Chad Gauerke, Carl Pennington, Mark McMillan, Mark Tracey, Bill Searles, John Gordon and a couple of others. It was the usual cast of characters - and lots of good flies tied. I'm not much of a fan of sitting down and watching other people tie - but I need to learn to become one. I spent a bunch of time trying to keep Avi out of trouble and entertained. Not an easy task.
I did sit down and chat with a tier who I had heard of before, but had never met personally. I sat down more out boredom and watiing for Bill's table to clear, but I am glad I did. The table I sat at was with Deward Yocum, from the Durango area in southwestern CO. I had heard of him before, and probably seen him at a fly tying event, but as usual my ADHD never let me sit down and learn anything from these guys. What caught my eye at Deward's table was this beautiful stonefly that he had tied.
The fly was in a frame (this frame to be exact) and was huge - but it had amazing detail and looked professionally tied - I was pretty impressed. We started talking about it and he told me exactly how to tie it - which was great, except for the fact that I wouldn't even think about trying it.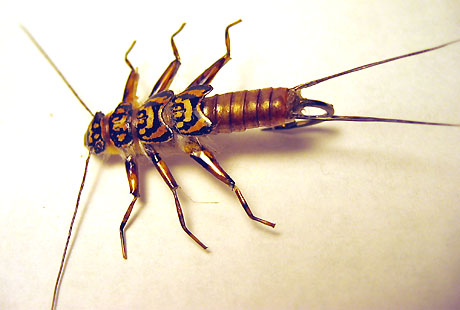 After sitting with him for a few minutes he showed me another pattern - more along my style - midges!! That's what I liked about Deward, he tied some pretty crafty midge patterns, all that I could tie on my own. I didn't think he could show me anything new about tying midges, but I was wrong. He showed me this great little pattern on a red hook, size 20, with a red bead, yellow/green micro tubing, and some red dubbing below the bead. The fly was simple, but elegant, and perfectly tied. I couldn't imagine how he tied in the microtubing without a big bunch mark right at the end - so he showed me a trick. wrapping teh micro tubing down tightly (starting at the bead) and then at the bend of the hook letting up a little and wrapping it back to the top - the fly looked perfect!
He had a bunch more killer patterns - including:
All pics were taken by Deward Yocum of his own flies
- see him at:
WWW.IFLYTIE.NET
I saw Chad a couple of times (I had taken his father in law - a Yankee fan - BOOOO!! - with me) and he was tying up his secret caddis pattern, and promised to show me how to tie the stonefly pattern (yeah right - we'll see!). I didn't have a whole heck of a lot of time to hang out with him - but I'm glad we finally got to see each other.