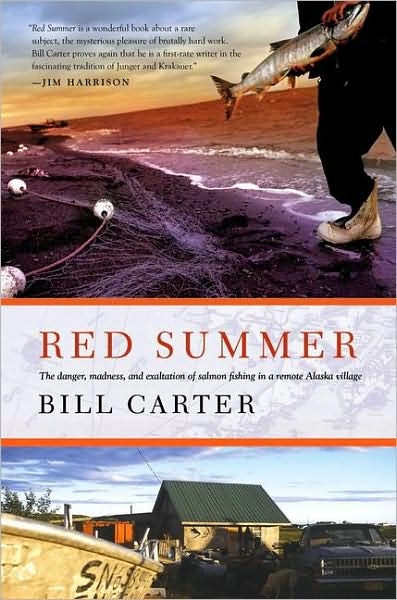 Red Summer
by Bill Carter
This is a newer book out on the shelf that I happened to pick up at the library and started reading. It is 230 pages of easy reading. I literally read the entire book in a week - which is unheard of since I am barely literate at all. Most books take me the full 2X renewal period the library allows to read.
Obviously I am a big fan of fly fishing, and although this is not a fly fishing book, it is about Alaska and salmon and fishing for them. Bill spends 4 summers (only about 6 weeks a year) in Egegik, Alaska netting salmon with a few locals. He tells his stories of being a greenhorn in year 1, the pain he feels in his body and the lifes of the Natives. Through all the drinking, cigarettes, swearing and work he tells a great story of just how hard these natives work and just how much they appreciate the Alaskan way of life. Outsiders, like himself, take a long time to "fit in", but the Natives have been welcome as long as they seem to "add" to society and work hard.
There are a few of chapters about other causes as well - the grizzly bear, the Pebble Mine, conservation and the Alaska Fish and Game that add nicely to Bill's story. He seems to be a great story teller and he captures the feel of living in Egegik, Alaska.
Another cool thing to do is to search on Facebook for people living in Egegik, AK - you will find quite a few, including the people listed in the book - I thought that was pretty cool that you could actually see that these real people exist. Pictures of Egegik make this place even seem more real.
Overall I highly recommend this book - it isn't about fly fishing, but it is about "fishing" and about a place we all dream about - Alaska. Happy reading.