Friday, July 25, 2008 - Union Reservoir, Longmont, CO
Hot, hot, hot day - probably 95 degrees, mostly sunny, some puffy clouds, water temp 80 degrees and muddy and algea. By 3pm there was a HUGE rain storm that we were lucky to be off the water by.
Did the CarpStalk outing with Steffan, Andrew, MarkM and a new guy Paul. Met Paul (coming up from Co Springs) at 5:45 and was in Longmont by 7. Met Steffan at IHOP around 7:30, and then Andrew at 8:30 at Starbucks. Headed to Union and met MarkM at the docks. We launched and headed across the water. Andrew and Mark are pros at this - seriously, they both guide for carp - which is crazy to think that there is any money in this!!!
Mark and I had one boat and Andrew/Steffan/Paul in the other. Their boat had fish on almost immediately, but I think they lost a couple. We saw a lot of tailing fish - as the water color was better in the morning than the afternoon. It was amazing to see these fish wallowing in the water eating off the bottom with their tails in the air. They seemed like they would be soooo easy to catch, but that is hardly the case. I blew up and scare tons of fish - missed all of them and had no luck. I fished for about an hour, and poled for about an hor to give Mark a chance to fish. I didn't do too badly poling Mark's 16 foot skiff - which was pretty cool.
At about 11am Mark dropped me off in Andrew's boat and we fished 4 guys in it - which is not a good idea, but we managed - 1 guy would fish while the others would scout fish and tend to Andrew's needs (beer, peanuts, hold the pole while he pissed, etc.). Before I had got on the boat they had landed two (one for Andrew, one for Steffan) and lost a few (Paul lost one). Andrew had us into fish, and Paul was working the rod well - he got one on and lost it in the weeds. I jumped at the chance to cast, and they tried hard to get me into fish. Literally I missed 35 fish before I finally got one on - and it took off a couple of times - but nothing of any distance. I turned him 6 or 7 times until he finally gave up and I landed him. The fish seemed to be sunning themselves right next to the grassy areas out in the middle of the bays - not up near the cattails like you would expect.
This fish was quite the work in progress - I got skunked my last trip out there, and it felt very very good to land one finally. He was quite a handsome fella, and he wasn't nearly as slimey as I thought he would be - actually less than trout! He was rounder than any trout, and he was pretty hardy - and was 25 inches long!!
We released him, and kept on fishing - no more fish on after that. We got off the water around 3pm and headed to Andrew's house to get some of the Aunt Lydia's yarn - which I needed to tie him up some flies. The fly on the menu that works the best is Andrew's Carp Slider - the thing looks harmless, but is deadly.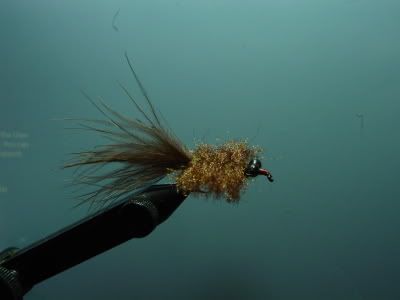 Link to the recipe and instructions.
After leaving Andrew's we got stuck in a rain storm like no other - hail, huge drops and flash flooding along the highway made the drive home a bit longer than expected. We stopped at Discount Fly Fishing to pick up some materials for the Slider's. Now I have to tie a few!
Thanks guys for the great time today!